7 Best Commercial Photographers of United States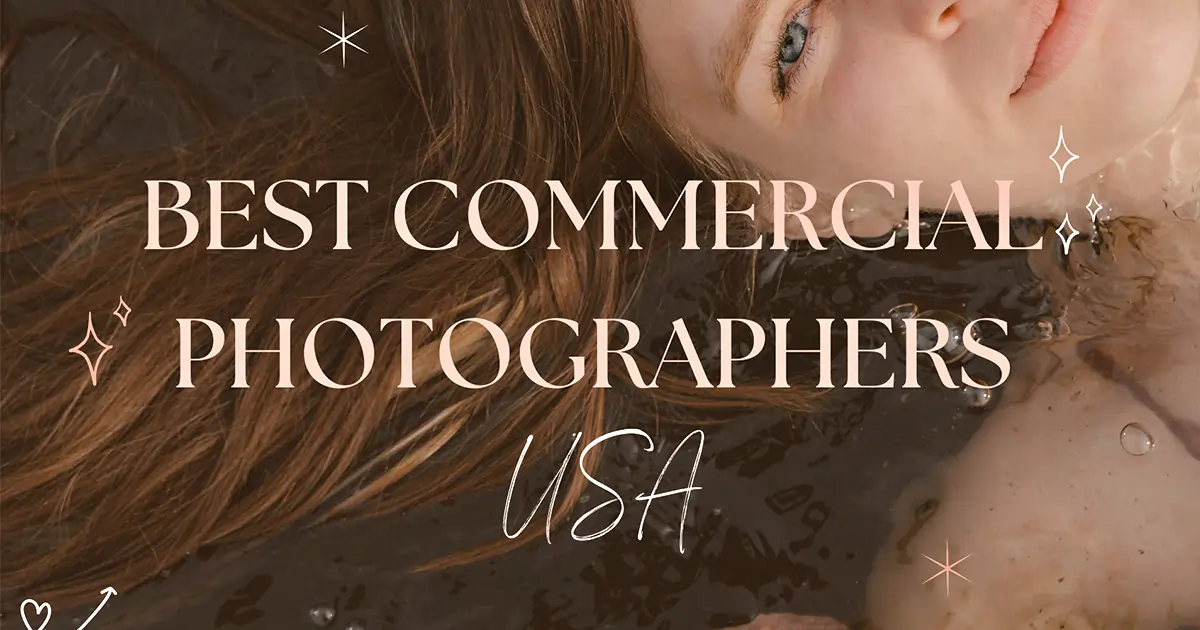 There was a time when social media reach was limited so creativity in commercial photos was less appreciated. However, now is a different matter. Everyday people look for new things. In order to sell a product or service, commercial photographers have to show their absolute creativity to capture the audience's attention. Just by one photo, ad or promotion, they have to tell a story to mesmerize people and invoke their interest.
So, you have to tell your story artistically in commercial photographs to be recognized by the people. Follow these 7 Best Commercial Photographers of United States who are conquering the world with their own style and creativity.
Best Commercial Photographers of United States of America
Food photography, Product photography, Fashion photography, headshot photography, architecture photography and portrait photography falls under the commercial umbrella.
And the featured famous commercial photographers are dominating the world with their photography. They tell amazing stories through their unique style and contribute to society with their astonishing photographs.
Erik Almas
Erik Almas is an award winning commercial photographer who is conquering the world with his dreamy ideas. You will be surprised to know that his love for photography was just a hobby. He was a DJ but to avoid work at night, he decided to study photography. At first, he studied photography in Norway but later moved to the USA for better opportunities. Now, he is ruling the commercial advertising world with his creative works.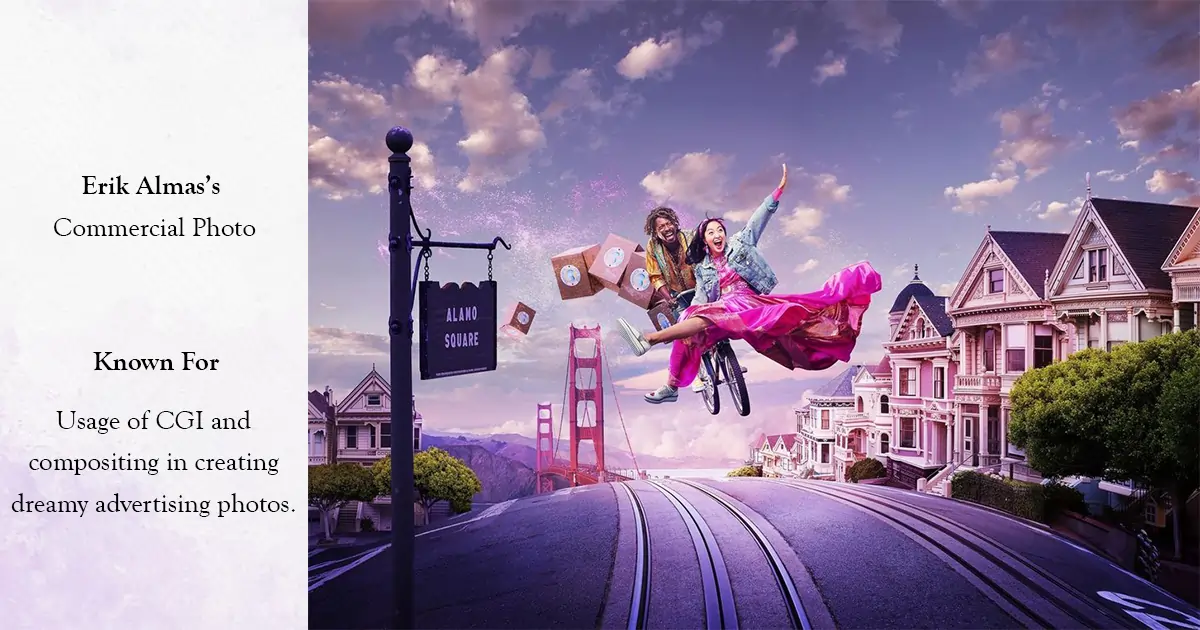 His usage of CGI and Compositing makes the images look otherworldly. He goes to any length to get the perfect images for his ad campaigns. He travels around the world to capture the background and later in the studio, he takes the photo of the model with the background template. Almas said when he takes the background images for any purpose, he keeps the purpose and model's position in mind.
He specializes in advertising, landscape, portrait, fashion, fine art, motion and lifestyle photography. He is currently working in Los Angeles but he also travels the world to get the desired picture he wants.
More information on Almas:
Website: www.erikalmas.com
Youtube: www.youtube.com/@ErikAlmasPhoto
Instagram: www.instagram.com/erikalmas
Annie Leibovitz
Annie Leibovitz was the third child out of 6 children. As her father was a lieutenant Colonel in the USA air force, she took her first photos during the Vietnam wars. She joined The Rolling Stone as a commercial photographer in 1970 and worked there till 1983.
She is most famous for the cover photo of John Lanon and Yoko Ono. On December 8, 1980, They recreated the couple's double fantasy album cover's Kissing Scene. And when they were returning to their apartment, Lanon was shot 5 times by Chapman. As promised with Lanon, Leibovitz published the photo in The Rolling Stone Cover. It became popular overnight and still is loved by people.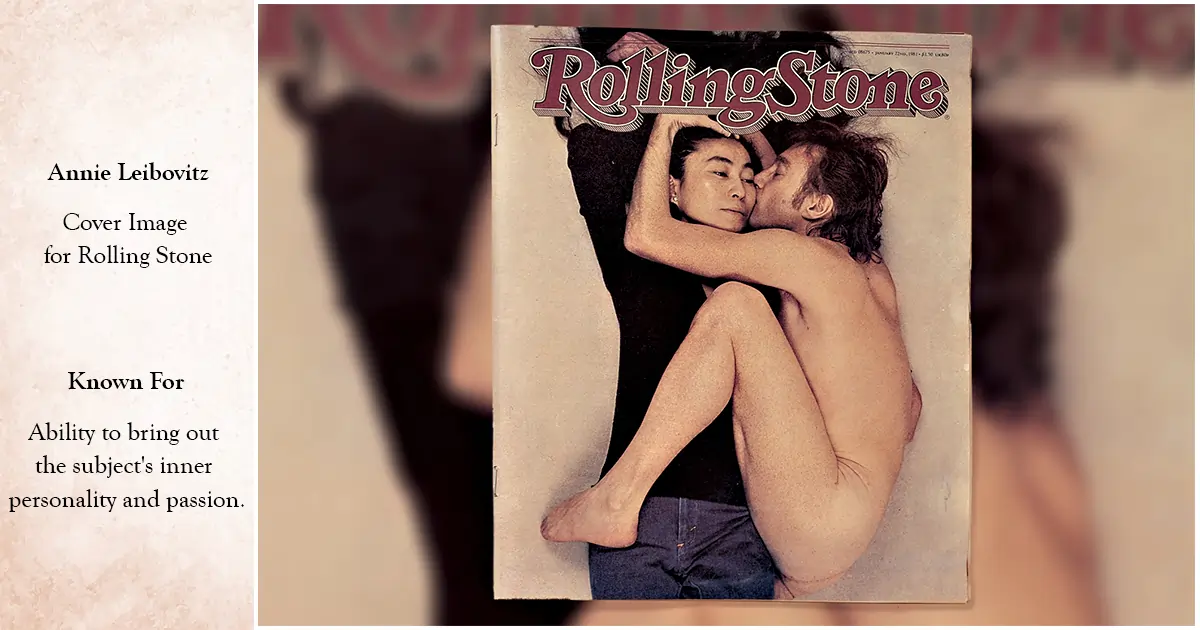 It is an amazing picture, right? I can feel their personality and passionate love from just one photo. Just like this photo, Leibovitz can bring her subject's inner life and unique personality through her photographs. She is the first woman and second photographer whose photos were exhibited in the National Portrait Gallery in Washington D.C.
She creates dramatic situations with her subjects and makes iconic portraits. She also worked with famous people like, Bob Marley, Angelina Jolie, Kate Moss, Jodie Foster etc. From 1983, she worked with Vanity Fair and Vogue and still contributing amazing photos to society.
More Information on Leibovitz:
Facebook: www.facebook.com/annieleibovitz
Instagram: www.instagram.com/annieleibovitz
David LaChapelle
David LaChapelle is best known for his commercial fashion portraits of models and celebrities. Have you heard? Lachapelle was inspired by his mother "Helga" to start taking photos. And he professionally started taking photos at the age of 17 when he was hired by "Interview Magazine".
Now, he collaborates with international brands like Volvo, MTV, Ford, L'Oreal etc. His photos also featured in British GQ, Vogue Italia, the New York Times Magazine, Vogue Paris and Rolling Stone etc. His joyous, sarcastic, vibrant and unique photos are mesmerizingly meaningful. According to the audience, his ironic, controversial and socio-political messages are humorous and fun to crack.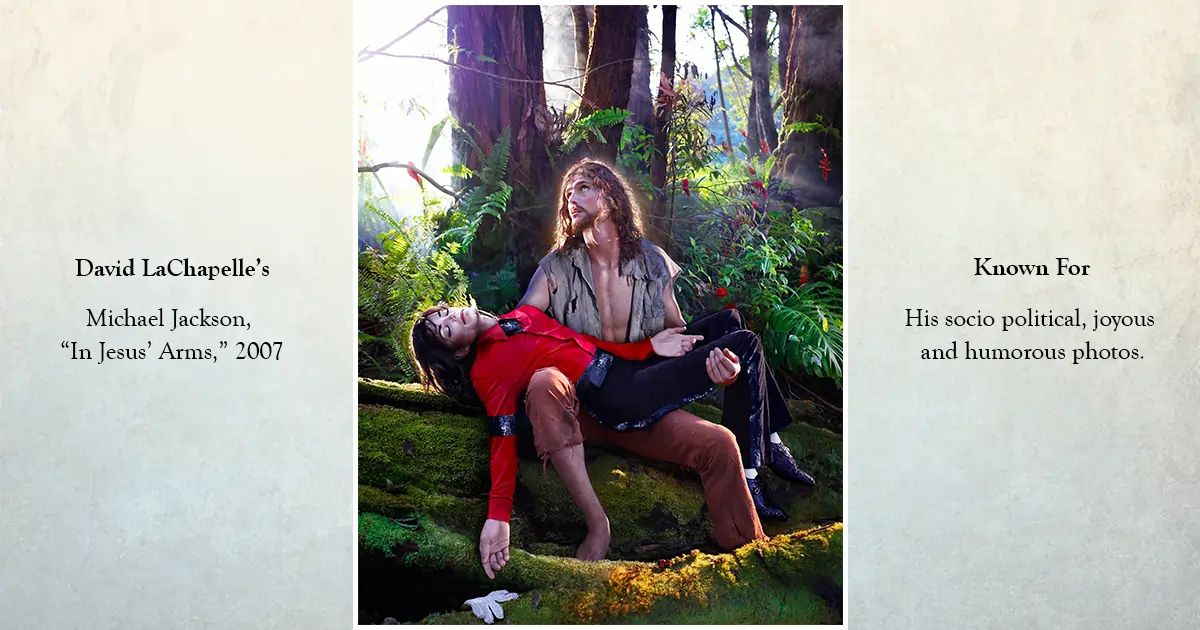 TASCHEN published a volume called "Good News, Part II '' in 2017 to show his viewers his unseen works which theme was the contemplations of morality and quest of paradise. They also published Lost+Found, Part I and the Felini of Photography. Many celebrities appeared in his photos such as Nikki Minaj, Angelina Jolie, Rock, Micheal Jackson, Lady Gaga, Madonna, Miley Cirus and Amanda Lepore etc.
More Information on Lachapelle:
Website : www.davidlachapelle.com
Facebook: www.facebook.com/DavidLaChapelleStudio
Instagram: www.instagram.com/david_lachapelle
Alex Koloskov
As a self-taught product photographer, Koloskov stated he doesn't know the rules, nor does he care about it. He just does photography in his own way.
Alex Koloskov is a truly inspirational professional photographer. He completed his bachelor's degree in Mechanical Engineering from Ukraine. However, he moved to the USA with just 400$ to survive from Ukraine's collapsed economic situation. Though he could not use his engineering degree in the office, he used his experience to create amazing product photos like no one.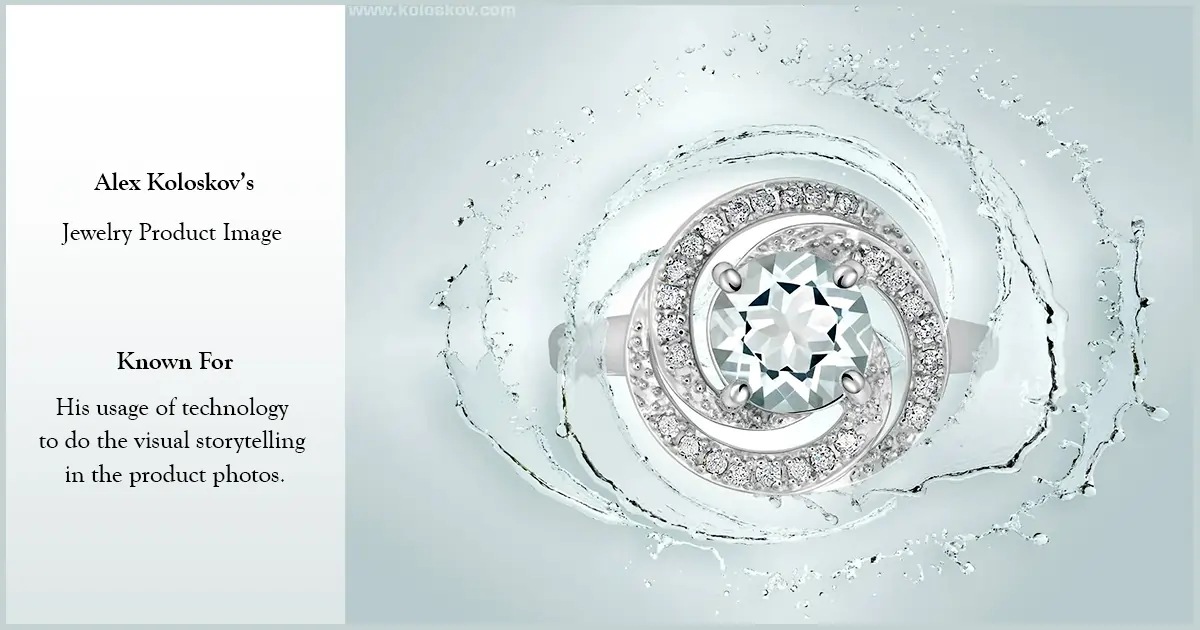 Koloskov's commercial photos speak for themselves. The way he uses technology to capture the image will drag you to the store to buy the product, even if you do not need them. Photos becomes more realistic because of his usage of light and tools magneficantly.
Koloskov is also a founder of Photigy. There he teaches students about commercial product photography, editing and retouching.
More Information on Koloskov:
Website : www.koloskov.com
Behance : www.behance.net/akelstudio
Youtube: www.youtube.com/user/Photigy
Instagram: www.instagram.com/akoloskov
Joe McNally
Joe McNally is an American photographer who was selected by the Photo District News Survey as one of the most influential photographers of the decade. His ability to use light and color make the photos look unique and exceptional.
In an interview, McNelly said he was not interested in photography at first. He was a journalism student and had to take a mandatory photography course for credits. His first camera was his father's camera "Beauty Lite lll" which he borrowed for photography class. However, from then he pursued photography and started working in Life Magazine.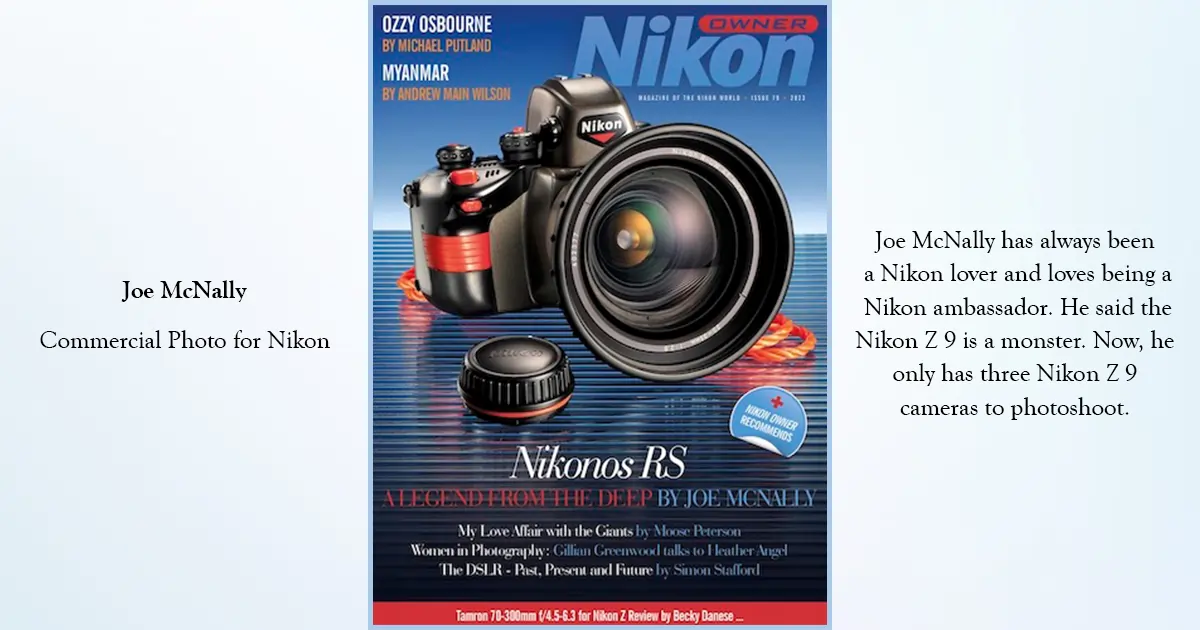 Throughout his photography career, he worked with many big brands like Time, Fortune, The New York Times, Men's Journal, News Week, National Geographic etc. He also did advertisement campaigns for MetLife, Nikon, Adidas, Sony, Epson, Media Group,General Electric and many more big name places.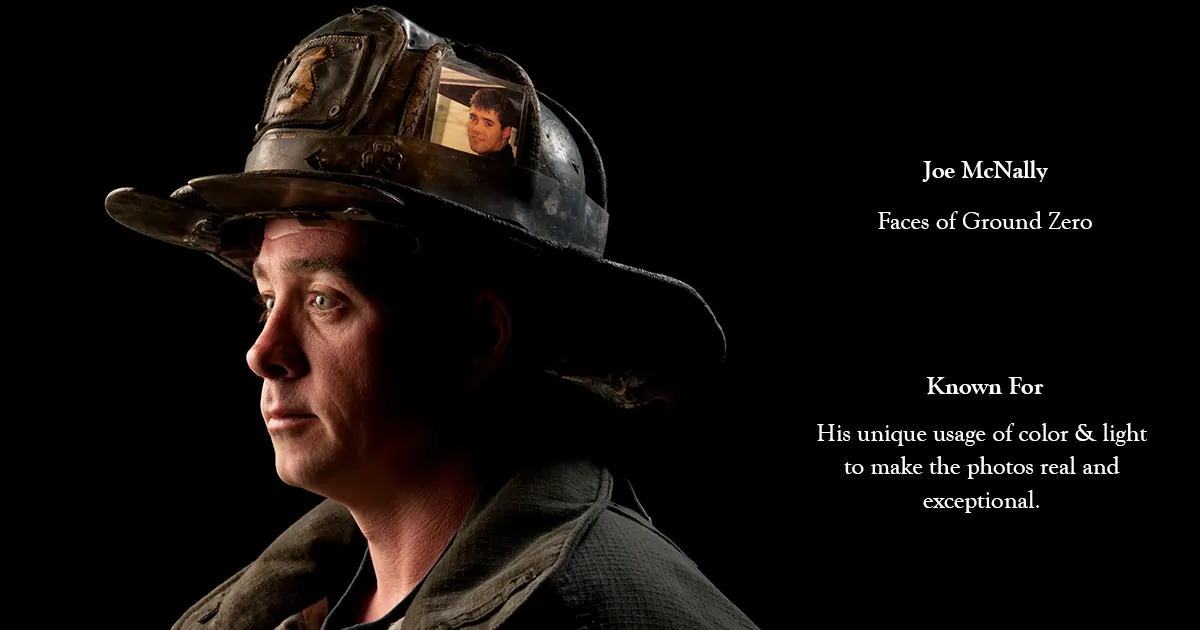 Though he worked in such big name places, he is famously known for his Faces of Ground Zero photo collection. This collection showed 9/11 heroes who helped rescue the people. The photos were shown in 7 cities which helped raise around 2 million dollars for helping people. Not only that he roamed around 70 countries and captured amazing photos for Life Magazine.
More Information on McNally:
Website : www.joemcnally.com
Facebook : www.facebook.com/joemcnallyphoto
Instagram: www.instagram.com/joemcnallyphoto
Lindsay Adler
Lindsay Adler is an American Portrait & Fashion photographer. She specializes in bold, clean and graphic style photos. Her usage of graphic shapes, symmetry and composition make the photos look like an art.
Did you know? Adler took photography as a hobby from her grandmother and mother. Only at the age of 14, she sold her first photograph to a calendar company and at 16, started her portrait business. Though she is known for her fashion photography, she started her photography journey by taking portraits and nature photos.
Check out the amazing image portfolio of this photographer.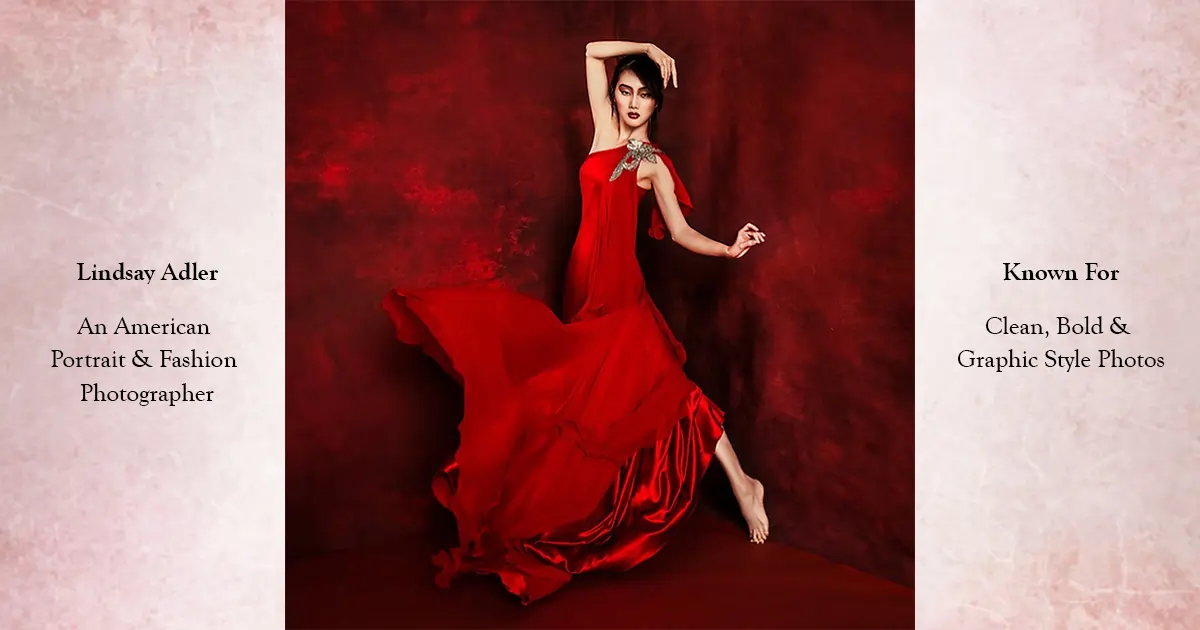 She did large photography projects with Canon and Adobe. She is also an influencer and educator. Her fashion photos are published in Professional Photographers, InStyle, Elle, Marie Claire and Rangefinder etc. her clients include Grey, Microsoft, Saatchi and many more.
She has been named one of the best fashion photographers in the world for her great commercial photos.
More Information on Adler:
Website : www.lindsayadlerphotography.com
Youtube : www.youtube.com/@lindsayadlerphoto
Twitter : www.twitter.com/lindsayadler
Instagram: www.instagram.com/lindsayadler_photo
Michael Woloszynowicz
Firstly, Though I love his works, let's accept the fact that Woloszynowicz is the most complex name in the photography industry. Now, let's talk about him.
Woloszynowicz is a very talented individual who is a professional photographer, retoucher and retouching instructor. He first started taking photos with a film camera at the age of 10 and 12. At first, he took landscape photos but got bored of them so he changed photography genres.
Now, he is a renowned Portrait, Fashion and Beauty photographer. His usage of light, multiple exposure and photo editing make the photos tell a story. He is also inspired by Eric Almas for his ability to tell a story through a photo.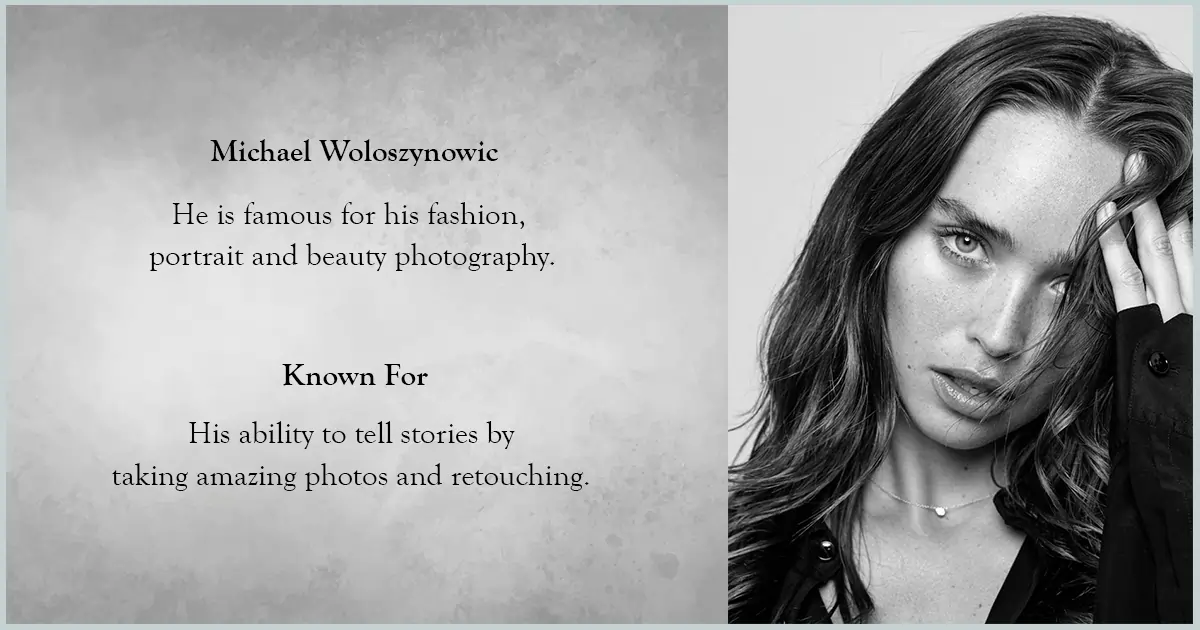 His works have appeared in multiple TV shows like, Maxim Mexico, Factic Columbia etc. His photos have been published in famous fashion & photography magazines as well. He is a photographer who does not care about quantity rather quality. He takes photos and retouches the photos flawlessly to convey the messages clearly.
More Information on Woloszynowicz:
Website : www.vibrantshot.com
Youtube : www.youtube.com/vibrantshot
Facebook : www.facebook.com/mwbiz
Closure:
These best commercial photographers of United States also had to start from somewhere to become this famous. Michael Woloszynowicz words always inspire me. He once said rather than focusing on quantity, take photos of high quality, send the photos to the selected magazines. And once work is accepted, the magazines will help you find models and specialists.
In other words, if you can make a break once with your creativity, you won't have to worry about anything anymore. You can just focus on improving your skills and taking amazing photos.
Last but not the least, if you want to make your fashion and portrait photos flawless and unique, take our fashion photo editing services.